Painting the Vineyards
Hone your artistic skills with Michael Orwick at one of the most beautiful vineyards in all of the Pacific Northwest, Youngberg Hills in McMinnville Oregon.

10660 Southwest Youngberg Hill Road McMinnville, OR 97128
(503) 472-2727

Enjoy 3 days (1 and 2 day options are available) of learning to create your own interpretation of this amazing place.
Oregon Vineyard Color and Light
10am-4pm
youngberghill.com/

Join Michael Orwick in scenic Oregon Wine Country, Oregon, for 3 days of painting some truly spectacular scenery.

Put life and personality into your landscapes. We will focus on the fundamentals of landscape painting while exploring the beauty and atmosphere of the area.

You will learn the importance of observation rather than using formulas and recipes to paint what you actually see and feel.
Through instruction, demonstrations, and critiques, this workshop explores composition and design, value and color harmony, and brushwork and edges.

Each day will include a demo and a group discussion about painting techniques, materials and philosophy, and individual easel time along with helpful critiques.
I like to concentrate on the basic elements of painting and will include an exercise or two to reinforce some of the basics that we all need to brush up on from time to time.
The workshop is open to oil painters of any level.

Look forward to Lots of personal painting time and help every day. We'll all learn a lot and have a great time.

Demonstrations will be directed at oil painters, but concepts and principles will apply to all media.
So many views and scenes to choose from.
$300.00
Workshop Dates:
6/8/2012 - 6/10/2012
Location:
Youngberg Vineyard Oregon
16115 SW Autumn Dr
Beaverton
Oregon
Oregon Wine Country
97007
United States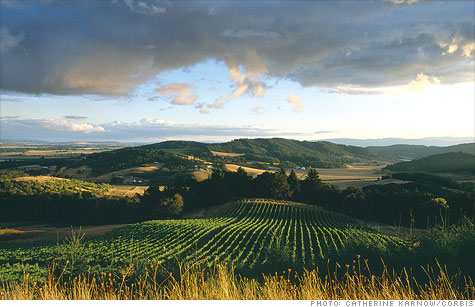 If you would like to stay on site please book separately
10660 SW Youngberg Hill Rd
McMinnville, OR 97128
Oregon's premier wine country inn and one of Wine Spectator's favorite location; Youngberg Hill Inn sits atop a mountain with commanding views over the valleys below. Located on 50 acres and surrounded by 22 acres of award-winning Pinot Noir & Pinot Gris. The Inn provides guests the opportunity to explore the 20 year old organic vineyard and to begin tasting our estates award winning wines. We are located 20 minutes from over 80 premier Oregon wineries. Accommodations are luxurious and guests discover well appointed common rooms including a library and an expansive veranda surrounding the house. Youngberg Hill will take your breath away with the most beautiful views, warm luxurious Inn, and exceptional estate wines. Youngberg Hill provides the perfect location for those seeking a quiet, romantic getaway, events, as well as a great base for those wishing to tour the Oregon wine country.

The eight-room inn stands like a beacon at the top of Youngberg Hill, overlooking 20 acres of vines and a vista view that stretches for miles. It houses four king suites and four queen guest rooms—all luxuriously appointed with private ensuite baths, antique furnishings, and plenty of windows. . The grounds offer plenty of ideal spots to sit and take in the glorious view, enjoy a sunset.

The natural beauty of Youngberg Hill is something to behold, inhale, and savor.

http://www.touringandtasting.com/winery.aspx?recordNum=164
http://maps.google.com/maps?hl=en&ion=1&bav=on.2,or.r_gc.r_pw.r_cp.r_qf.,cf.osb&biw=1920&bih=943&um=1&ie=UTF-8&q=Youngberg+hills+vineyard+and+inn&fb=1&gl=us&hq=Youngberg+hills+vineyard+and+inn&hnear=0x5495082476f88863:0x10e0cf158aacbd08,Beaverton,+OR&cid=0,0,15422273979133743529&ei=Jv5gT4eHHuOe2wX2wf38Bw&sa=X&oi=local_result&ct=image&ved=0CCoQ_BI
Contact Information:
Michael Orwick
orwickillustration@comcast.net
5036937639