We have 2 great workshops and one demo available at
The 1st one coming up in about 5 weeks is
Who would like to come and paint with the great and mighty Eric Jacobsen and me? We still have spots available.
Two instructors for the price of one, with over 3 times.
Just over 5 weeks to make your plans and RSVP to the PAINTING COASTAL COLOR AND LIGHT.
Plein Air painting at Cannon Beach Rules! And so can you!
Price: $500.00
Workshop Dates:
6/24/2013 - 6/28/2013
Location: Cannon Beach, Oregon
Phone Number:
503 329 2167
Country: United States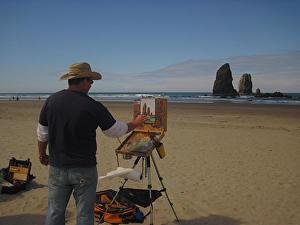 In beautiful Eugene we have
Price: $300.00
Workshop Dates:
8/12/2013 - 8/14/2013
Location: The Gallery at the Watershed 321 Mill Street #6
Phone Number:
541-844-1668
Address:
The Gallery at the Watershed 321 Mill Street #6
Eugene, Oregon 97401
Country: United States
and the one day demo
Price: $45.00
Workshop Dates:
8/15/2013 - 8/15/2013
Location: The Gallery at the Watershed
Phone Number:
541-844-1668
Address:
321 Mill Street #6
Eugene, Oregon 97401
Country: United States