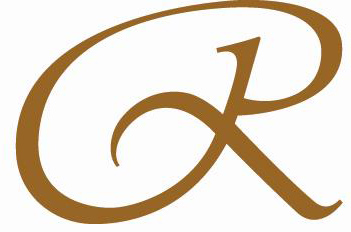 FIRST FRIDAY ~ August 5, 2011 ~ 5-9 pm
Celebrating the Essence of American Life!
Everyday Life in America is a continuation of our July show, with a few special additions. Over the past few weeks some of our regular artists were invited to paint plein air and bring in their work to exhibit this August 5, First Friday. Their work is a beautiful addition to our monthly show. While you are in the gallery you will also have a chance to vote on your favorite plein air painting. We will announce the winners during our First Friday event on September 2.

We have also included seven new works by Hood River artist Gayle Weisfield, several of which were painted outside at Crater Lake this past May.



If you missed last First Friday, you're in luck. You still have a chance to see work by Bev Jozwiak, James McGrew, Christy Perrine, Vickie Nelson, Brenda Boylan, Michael Orwick and Terry Lee. These are all regional, established artists, some new to Rip Caswell Gallery, others more famliar.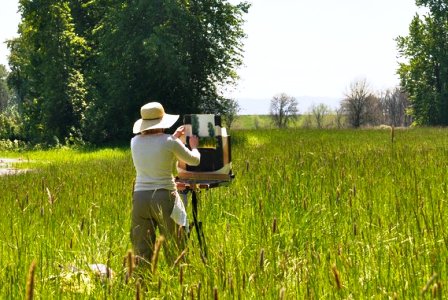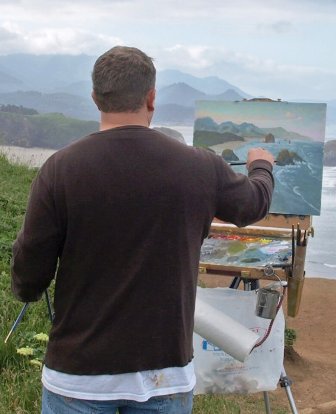 Images: Brenda Boylan and Michael Orwick painting "plein air".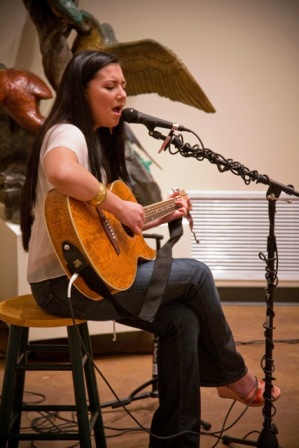 Local singer and songwriter, Crystal Lariza will entertain us with her vocals and guitar.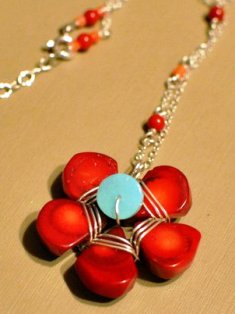 Be sure to shop beautiful handcrafted jewelry by Whimsy. In addition to her gorgeous, sparkly, druzy pendants, Kathleen Hovis has created a new line of red coral jewelry.



As always, we will have delicious things to nibble and wine tasting by Mt. Defiance Wine Company.

A note on exhibits:
Our artists are asked each month to submit work to fit within a theme. A large portion of the Gallery is then re-hung with new work and fresh images, offering an ever-changing palate of fine art for our guests and clients. Some of our artists are exclusive to the Gallery and you will find their work here on a permanent basis.
Start or Add to Your Art Collection
We represent many established and newer regional artists. If you are looking for a particular piece of art or artist, we are happy to assist. Be sure to sign up for our emails either on line at ripcaswell.com, or even better, in person when visiting the gallery. Also, we are happy to customize a layaway program for you, just ask! Rip also accepts private commissions to create pieces depicting family members, beloved pets, or in memoriam.

About Rip Caswell

Rip Caswell is recognized as one of America's major bronze sculptors. Caswell's artworks can be found in familiar public spaces, commercial developments and private collections throughout the United States and abroad. Caswell is well known for his ability to capture emotion in his sculpture while reflecting the true anatomical nature of his subjects. Caswell discovered his affinity for sculpting at a young age, eventually developing his talent as an award winning taxidermist before turning to bronze sculpting as his artistic expression.